Seating is essential...
Having the right seating for your event and space is critical for any event. Count on us to Absolutely have your back.
Chiavari Chairs
Chiavari chairs are the standard for elegant event seating. We offer our Chiavari chairs in three color options; Gold, Silver, and Mahogany. Chair pads are offered in Ivory and Black. These chairs are often chosen for weddings, award shows, and banquets. These days every bride wishes to seat her guests in this perfect event chair, Chiavari chairs offer excellence and comfort that will absolutely dazzle your guests.
Chiavari History: Chiavari chairs are named for the Italian city where they originated. This little town, located between Genoa and the Cinque Terre, began producing these chairs at the beginning of the 19th century. In 1807, Gaetano Descalzi designed a light, elegant, yet solid, cherrywood chair which became Chiavarine.
Gold Chiavari Elegant Event Chair with Black Comfort Pad.
$7.75 each
Gold Chiavari Elegant Event Chair with Ivory Comfort Pad.
$7.75 each
Mahogany Chiavari Elegant Event Chair with Ivory Comfort Pad.
$7.00 each
Silver Chiavari Elegant Event Chair with Ivory Comfort Pad.
$7.00 each
Silver Chiavari Elegant Event Chair with Black Comfort Pad.
$7.00 each
Folding Chairs
Comfortable padded folding chairs, Attractive and sturdy.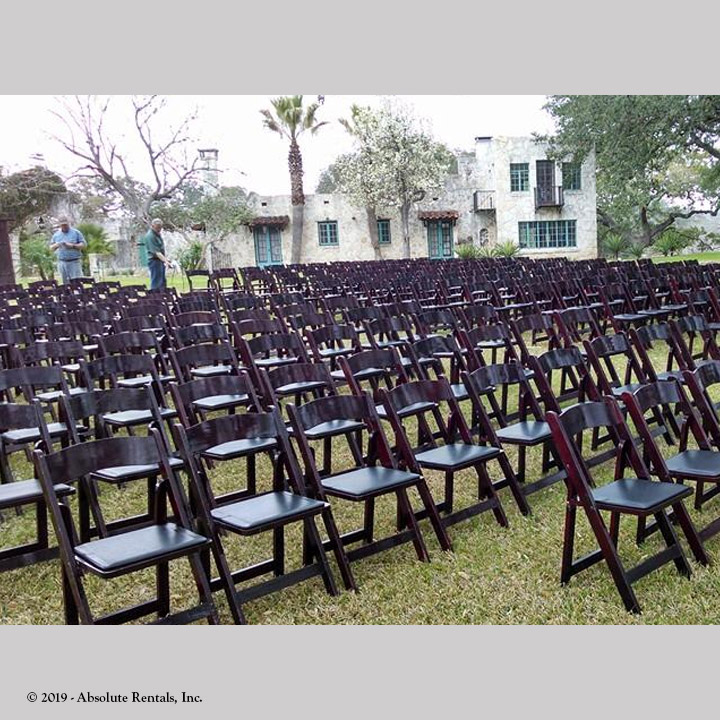 Our beautiful Mahogany Padded Folding Chairs in an Outdoor Setting.
White Resin Folding Chairs (commonly known as white wedding chairs) can be used to elevate a variety of wedding and event themes. They can blend in perfectly with elegant décor or be made to stand out. Being padded adds great comfort and are a staple rental chair for many various events.
$2.75 each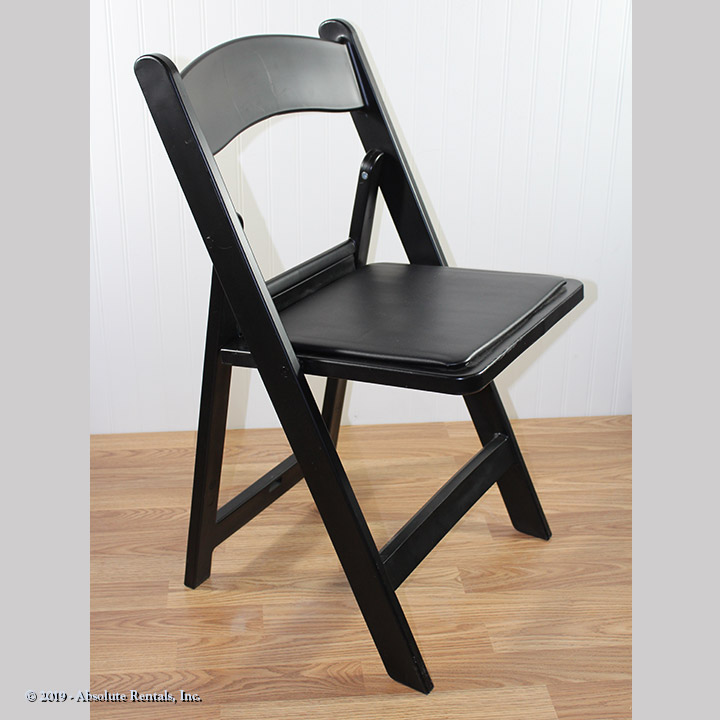 Black Resin Folding Chairs - These chairs provide a crisp and modern feel. This selection will definitely provide the pop you are seeking to enhance your event. These chairs offer an all black look which includes the full black padding. These chairs can also provide a sharp contrast to your chosen décor and can portray a prestigious look that will absolutely impress your event attendees.
$2.95 each
Mahogany Resin Folding Chair - For a warm, antique look, these can be a perfect choice for your affair. Their unique color not only offers a stylish look but also offers your guests comfortable seating with black padding. Whether you're planning a country wedding or require an elegant look for your corporate function, selecting the mahogany folding chair will guaranty an upscale look and feel.
$2.95 each
Natural Wood Padded Folding Chair - Making the choice to select our beautiful natural wooden chairs may be the perfect decision should your venue reside in a warm and comfortable setting. Also, a perfect choice for that country wedding feel. These chairs are blonde in color and come with an ivory padding.
$2.95 each
Natural Wood High Chair - Our commercial grade high chairs allow children to safely enjoy their meal with their parents. This chair, when used properly, is a stable platform equipped with a safety harness strap and wide pyramid design to avoid tipping. This chair is not designed to be used inversed. Never leave your child unattended to prevent serious injury!
$10.00 each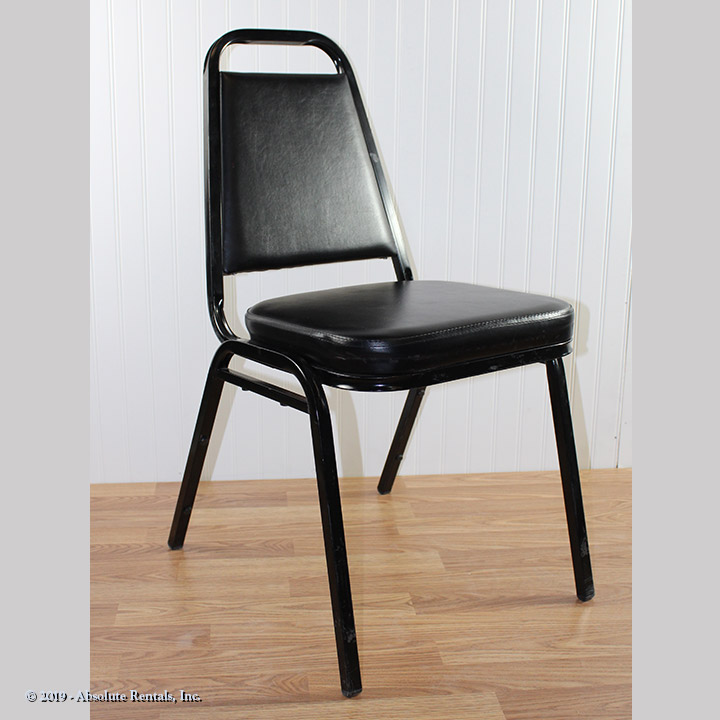 Black Banquet Chair - Our black, durable vinyl and very comfortable banquet chair is an excellent choice for seminars, churches, banquet halls, training rooms, hotels, convention centers and schools. These chairs are equipped with thick padding both on the seat and back to provide comfort to your event attendees who are expected to be seated for long periods of time.
$3.85 each
Samsonite Style Metal Folding Chair - If you are looking for an economical choice, our beige folding chairs are great quality chair for any party, graduation, seminar, family gathering or event. These "Samsonite" style chairs are lightweight yet well-built and strong. Featuring a powder-coated steel frame and plastic contoured seats and backs. These chairs can be a nice-looking seating option especially good for indoor casual or outdoor events.
$1.35 each
And More
Absolute Rentals can help with your next event. Not just tables and chairs but also tents, podiums, a portable rolling bar, dance floors and stages plus more.